Stream & Wetland Restoration,
Civil Engineering & Hydrology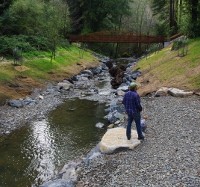 One of Questa's primary areas of technical specialization is the integration of applied fluvial geomorphology, surface water hydrology, flood control, watershed management, erosion control, and water quality management. The firm is known for its technical expertise in creek restoration and enhancement planning, biotechnical erosion control, and slope stabilization. Questa is a pioneer in applying hydraulic, geomorphic, and geotechnical stability analysis to biotechnical bank repair designs, and in developing creative solutions to fish passage barrier problem sites. Several of our projects have received design awards for barrier removal and creek restoration.
Services Include
Biotechnical streambank stabilization plans
Erosion control plans
Site drainage plans
Hydrologic and hydraulic analysis
Natural channel design
Culvert design
Subsurface drainage systems